Custom Through-Hole Table and Motor Configuration Meets High-Load Inspection Requirements
Orbex Group
Continuing our series on custom motor projects, let's explore an application in which we configured a custom integrated rotary through-hole table and servo motor—creating a complete actuation solution for an inspection process. This application incorporated our THT Series of through-hole tables, which combines the advantages of servo motors, cam dividers and direct drive motors to provide high precision and rigidity at a fraction of the cost of similar direct-drive tables.
Fast, Precise and Compact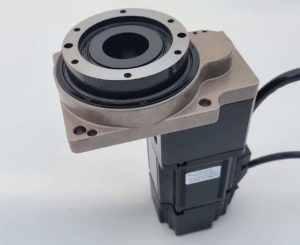 In a recent sorting application, parts weighing up to 40 pounds needed to be rotated under a sensor array for inspection. This process required a motion control system that could rotate the parts at 200 rotations per minute (rpm) and incorporate a low-profile design to fit the layout of existing work cells.
To meet these requirements for load, speed and size, we combined our HPM60 200 VAC Servo Motor with our THT85 Through-Hole Table—providing a compact, integrated and cost-effective solution compared to direct drive motors and other rotary indexing tables. This custom configuration not only met the application's 40-pound weight and 200-rpm speed requirements, but also improved system precision and stiffness compared to more costly direct drive motors.
The Orbex THT Series
Ideal for motion control and automation applications, our THT Series incorporates high transmission efficiency, precision and rigidity in a compact package. The series includes our 62, 85, 130, 200, 300 and 450 models, which feature five frame sizes from 62 to 450 millimeters.
Other notable features include:
Torques from 5 to 192 Nm
Servo motors: 100 to 100,000 W
Speeds to 200 rpm
Accuracy to ≤ 10 arc-sec
Learn More
Watch our latest video below for an overview of the THT Series, and be sure to check back next month for more examples of custom motor projects.